What is the personality type of Historia Reiss (Christa Lenz)? Which MBTI personality type best fits? Personality type for Historia Reiss (Christa Lenz) from Shingeki No Kyojin and what is the personality traits.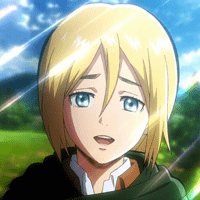 Historia Reiss (Christa Lenz) personality type is ISFJ, or Introverted, Sensing, Feeling, Judging. ISFJs are very social people because they are constantly needing to be needed by others. They are also very discerning so they know what they want and need. ISFJs are good at helping others, but they can become very stressed out when there is too much work to do.
ISFJs make good leaders because they know how to help others and make them feel comfortable in their environment. However, they do not make good leaders because they do not have the drive to make their vision a reality. ISFJs need to find a balance in their lives between work and play because they need to keep their people skills working in order to keep a healthy environment for themselves.
ISFJ Myers-Briggs Type Indicator Chart
ISFJ Introvert Sensing Feeling Judging
ISFJs main goal is to support others and help them grow in whatever way possible. They are goal oriented people who want to accomplish their goals in life. They are the kind of people who will give up things in life so they can accomplish their goals. They have a hard time saying no because they see people as being dependent on them.
Historia Reiss is the current Queen of the Walls. She is also the illegitimate child of the nobleman Rod Reiss and is the last remaining member of the Reiss royal family. She was raised in isolation on one of the Reiss family estates until the fall of Wall Maria.
Shingeki No Kyojin Profiles