What is the personality type of Elizabeth Olsen? Which MBTI personality type best fits? Personality type for Elizabeth Olsen from Actors & Actresses Usa and what is the personality traits.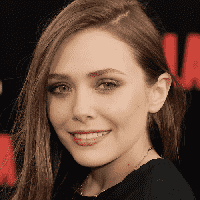 Elizabeth Olsen personality type is ENTP, its a bit of a surprise to me, but I guess it makes sense.
I think she is a good actress, her acting is a bit too serious, but she has a nice smile and I like when she smiles in interviews.
I don't really know that much about her, she seems very nice and I like her character in 'Martha Marcy May Marlene'.
Elizabeth Chase Olsen (born February 16, 1989) is an American actress. Her breakthrough came in 2011 when she starred in the independent thriller drama Martha Marcy May Marlene, for which she was nominated for the Broadcast Film Critics Association Award for Best Actress and Independent Spirit Award for Best Female Lead, among other awards. She is recognized around the world for her role as Wanda Maximoff 'Scarlet Witch' in the Marvel Cinematic Universe.
Actors & Actresses Usa Profiles