What is the personality type of Aro? Which MBTI personality type best fits? Personality type for Aro from Twilight Franchise and what is the personality traits.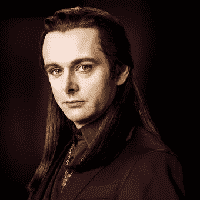 Aro personality type is ENTP, which means you are one of the rare individuals who can see the potential in anything and everything. You are an innovator and a creator, and while you might feel like you're always in your head, you're actually a very social and engaging person. While your ideas and thoughts can be a little eccentric at times, you can see the light in everything and everyone around you, and that's why you're such a good salesman.
What Type of Personality Are You?
If you like this article, check out our other personality profiles here:
Introverted (I)
Extroverted (E)
Sensing (S)
Aro is the de facto leader the Volturi—the most powerful coven of the vampire world. He has gift of tactile telepathy, which gives him the ability to read someone's thoughts and memories with a single touch. He is portrayed by Michael Sheen in the movie adaptations.
Twilight Franchise Profiles