Dr. Badger Personality Type, MBTI
What is the personality type of Dr. Badger? Which MBTI personality type best fits? Personality type for Dr. Badger from Zootopia 2016 and what is the personality traits.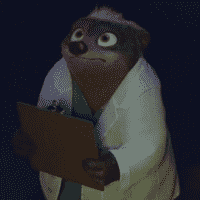 Dr. Badger personality type is INTP. And their enneagram is 5w4.
To learn more about INTP and its traits click here.
Dr. Badger is a minor character from the 2016 Disney animated feature film Zootopia. She is a doctor who handles the most pressing medical cases. Her professional name was revealed in The Official Zootopia Handbook.
Zootopia 2016 Profiles
See All Zootopia 2016 Profiles