What is the personality type of Coriolanus Snow? Which MBTI personality type best fits? Personality type for Coriolanus Snow from The Hunger Games Franchise and what is the personality traits.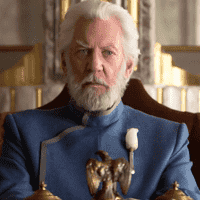 Coriolanus Snow personality type is ENTJ, while her career type is ENTJ/ESTJ. Please note that these are just a loose guideline and not necessarily the only possible combinations of types.
Orphanz Profile
Orphanz is a member of the following lists: Actresses from Washington, Washington D.C., 20th-21st century American male actors and American male voice actors.
Link to this page:
See more information on Orphanz at Wikipedia »
President Coriolanus "Coryo" Snow is the main antagonist of the The Hunger Games trilogy by Suzanne Collins, and the protagonist of the prequel The Ballad of Songbirds and Snakes. He is portrayed by actor Donald Sutherland in The Hunger Games film series. Throughout the The Hunger Games trilogy, Snow is the autocratic ruler of the Capitol and all of Panem. Though seemingly laid-back, his demeanor hides a sadistic and psychopathic mind. The character has received a mixed to positive critical reception.
The Hunger Games Franchise Profiles
See All The Hunger Games Franchise Profiles