What is the personality type of Éclair Tonnerre? Which MBTI personality type best fits? Personality type for Éclair Tonnerre from Ouran Koukou Host Club and what is the personality traits.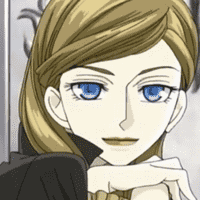 Éclair Tonnerre personality type is INTJ, but they can be J, F, T, P, or S. If you don't understand the personality type system, the guide to types here is a good place to start.
Thanks to @cjdunn for the image.
INTP is the best choice for this one.
Éclair Tonnerre is an anime-only character who appears in Ep 25 - The Host Club Declares Dissolution! and Ep 26 - This is Our Ouran Fair!. She is an elite wealthy French heiress to the French company, Grand Tonnerre Group, whose modern-day fortune is based in Finance and Business Management.
Ouran Koukou Host Club Profiles
See All Ouran Koukou Host Club Profiles